Using Notion for Project Management: Pros, Cons, & More

By

Marcel Deer

Reviewed by

Nevena Radulović
Updated September 12, 2023.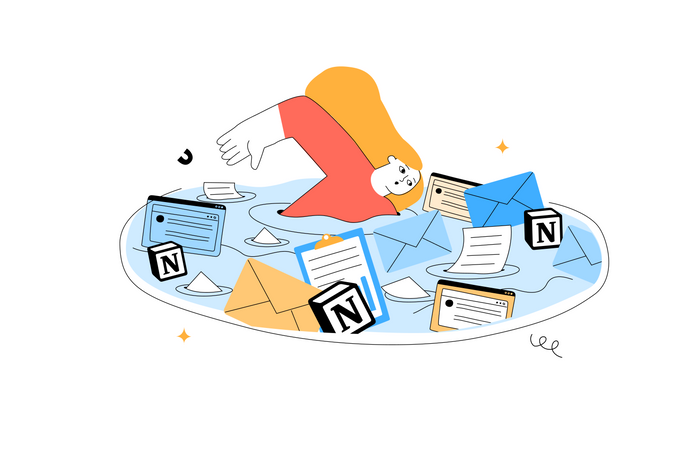 What is Notion?
Released in 2016, Notion is an all-in-one workspace that allows users to organize their thoughts, create plans, and streamline projects.
While it's popular as an efficient note-taking tool that facilitates easy knowledge management, Notion is also a powerful project management application. The solution is a freemium productivity and note-taking web application housing tools for knowledge management, task management, project tracking, to-do lists, bookmarking, and more. In other words, the same Notion for knowledge management doubles as a project management Notion as well.
So, is Notion good for project management? Yes!
Is Notion good for task management? Yes!
Can Notion be used for both? Absolutely!
Let's take a look at how we can broaden the scope of Notion from being a knowledge management facilitator to using it as a powerful project management enabler.
How to Use Notion for Project Management
Notion offers several project management tools. You can easily collaborate with your team from any device and work together on projects synced in real-time.
That said, does Notion work offline? Yes, in a way.
While Notion does not have an offline mode, if you leave it (say, Notion Pages) open in your browser when you lose the internet connection, you can continue working on it, and the same would be synced when the connection is back on.
With Notion, you can:
Create roadmaps

Write to-do and task lists

Build Kanban boards

Create a database

Create and store documents

Build project plans
What's impressive about Notion is that it offers these functionalities as a part of a single solution, in contrast to Google Workspace, which is a collection of several apps. You can use Notion's tools wherever you are on the app and access them through page menus.
✶ Is your Notion not syncing across devices? See the ways to fix it
Project Management Tools in Notion
Below is an overview of Notion's project management features and how to put them to use to make the most out of Notion for improving employee productivity.
Wikis
Wikis are collaborative document repositories that all project collaborators can access. It's where you can store project briefs, contracts, policies, and content, among other things. Wikis are a crucial piece of Notion content management.
Here is how to go about using Wikis in Notion:
Create a workspace page for your project by clicking the (+) icon in your sidebar next to WORKSPACE

Use the slash (/) key to access different content options and create subpages within your workspace

Populate your workspace with relevant information related to your project, such as project briefs, contracts, policies, and content

Use columns to group related pages and make it easier to navigate your workspace

Include information on mechanics, prizes, participants, and other useful data in subpages

Collaborate with others by giving them access to your wiki and encouraging them to contribute
Project Pages
In Notion, a page is essentially a document that's customizable, so you can add whatever you like—text, images, checklists, tasks, or even a Kanban board.
To create a new page, just click "+ New Page" on the bottom left of your sidebar menu. From there, you can select a page type you want, be it an empty table, list, board, or calendar.
✶ Knowledge management vs. content management: the key differences
Kanban Board
Notion Kanban boards are an effective project management tool that can show you what tasks your team has, what tasks have been assigned to a team member, and their current status. When a team member is done with a task, they can easily drag the card from the to-do column to the completed column. This way, Notion task management is just as good as other task management solutions in the market.
Roadmaps
Roadmaps in Notion are great for visualizing a project plan and allowing everyone to see what steps, resources, and people are involved. Notion lets you build roadmaps and sync them with the projects or tasks you have in your databases.
Moreover, you can easily create a roadmap using built-in templates as well.
To start building your roadmap in Notion, create a new database (for the Roadmap) and populate it with all the necessary properties you need, such as projects, deadlines, tasks, and more. If you need to add multiple tasks, create a template to save time. Once done, you can share your roadmap with the rest of the team by providing them with workspace access.
Customize Views
Notion allows you the flexibility of viewing your to-dos in either a traditional to-do list format or a visual timeline. Additionally, you can view it as a table for a more structured approach, as a gallery for a visual overview, or as a calendar for easy scheduling and planning.
✶ Want to use Notion for content management? See the pros and cons
Pros of Using Notion for Project Management
There are multiple benefits to using Notion for project management, including the following:
Cost efficient

–

Notion is an all-in-one workspace that eliminates the need for companies to acquire and use separate CRM, onboarding, and project management tools.

User-friendly

– Once you master Notion's many features, producing pages and content should be easier than on other platforms.

Time-saving

–

Notion has many time-saving features that make it simple to create content, take notes, organize projects,

automate workflows

, or assign tasks. As users don't need to switch between apps, they can quickly update content from their workspace. Additionally, the many templates available and

Notion shortcuts

make it easy to get started right away. All these amount to great Notion productivity.

Portable

–

Notion is compatible with many devices. Its various features are accessible to users through its web, desktops, or mobile app.
✶ Notion search sucks: see why and how to improve it
Cons of Using Notion for Project Management
Despite its multiple advantages, there are also some disadvantages of Notion when using the solution for project management.
Overwhelming

–

Notion's approach to organizing content is based on using blocks for every element, which can initially feel overwhelming for new users. To take advantage of Notion's extensive range of features and templates, users will need to invest some time in learning how to use the interface effectively. Once they become familiar with the platform, they will be able to leverage its full potential. This is particularly true when it comes to Notion search.

No goal tracking

– Large projects are often broken down into phases or important milestones so that project managers can keep track of what's been accomplished and what's pending. However, there's no way to set benchmarks or monitor your progress toward targets, as all you have to work with are checklists.

No reporting tool

–

Without a built-in reporting tool, you'll need a third-party reporting app to track your team's performance.

Lack of communication features

– While everyone can edit and comment on the same pages, there isn't really a way to talk to other team members on the platform.
Despite these Notion disadvantages, the solution continues to be highly sought-after.
Supercharge Project Management With Unleash


Notion is an excellent tool for improving collaboration, task management, document management, and project tracking.
It is an exceptional content and project management tool for individuals and organizations. However, it may not be the most suitable option for large enterprises with complex project management needs.
To optimize project management in such cases, a robust search tool like Unleash can be beneficial. After all, in today's day and age of burgeoning data, search is more important than ever.