Notion Software for Content Management: Advantages and Disadvantages [2023]

By

Marcel Deer

Edited by

Nevena Radulović
Updated March 24, 2023.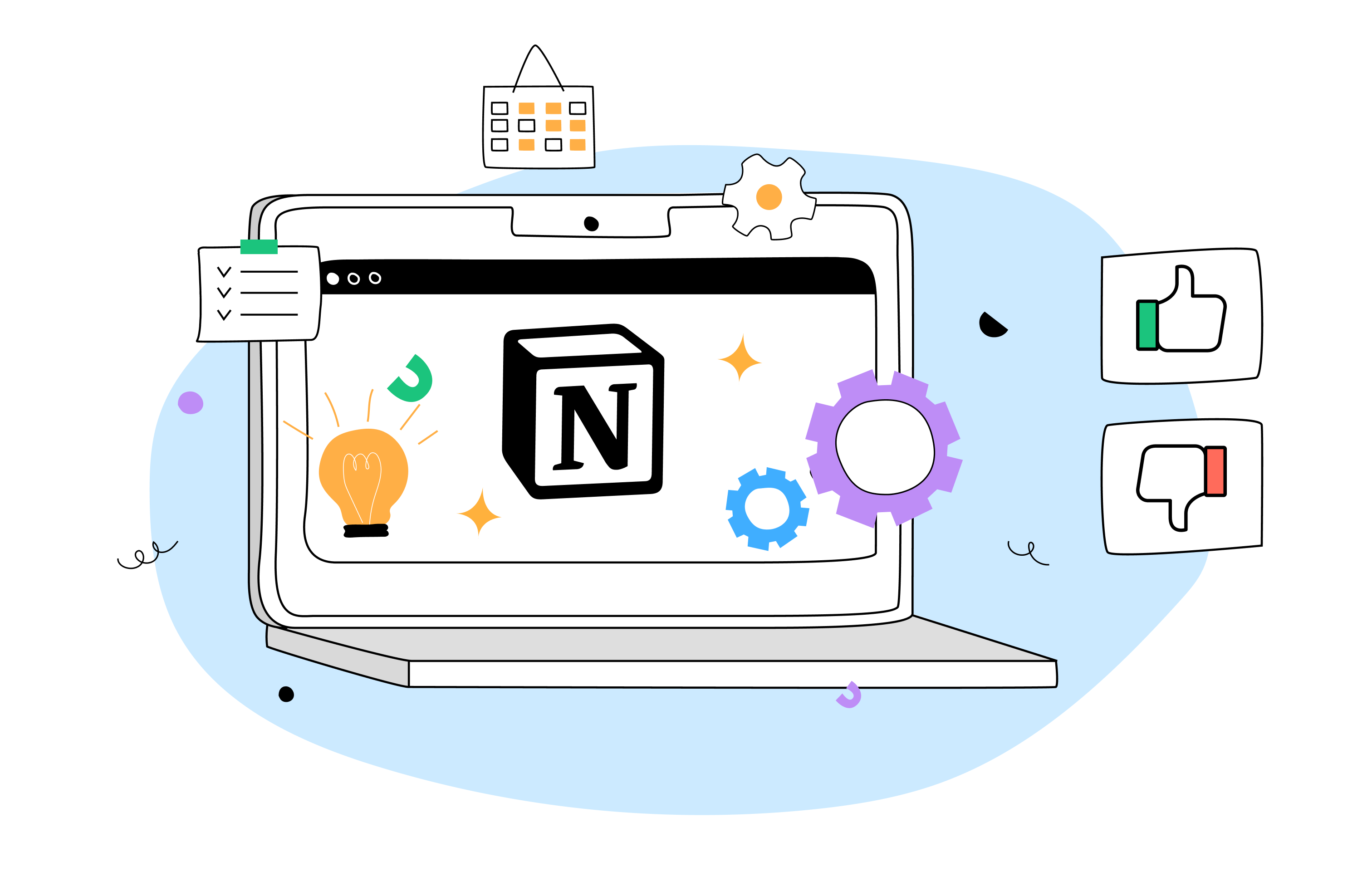 Notion is a fantastic online content management solution. It can be used to edit text, maintain a blog, store ideas, organize content, and compose articles all in one place. This makes it useful for anybody with content management needs, from solo entrepreneurs to well-established companies.
Here, we'll explore Notion's advantages and disadvantages for content management.
✶ Using Notion to improve workflow: see 5 essential automations to set up
Notion for Content Management
Content management requires keeping track of a piece of content as it goes through its many iterations from inception to completion. Enterprises and small businesses with a lot of content to handle may find content management a daunting task.
However, Notion facilitates streamlined workflow procedures and improved collaboration as content moves through its lifecycle. Here are a few of Notion's features that support this:
Project and Task Management
Notion can work as an all-in-one project management tool where teams assign, track and update multiple projects and recurring tasks all in one place. Moreover, Notion project management makes it convenient to improve document management and organize file attachments, task lists, and schedules so that they're easily searchable.
Notion also contains features that help with task management. To stay on track with the rest of the team, members can view any project note along with related task assignments and the most recent updates, initiate conversations, write comments, and tag other users to get or give feedback. You can also improve the rate at which tasks are completed by using Notion shortcuts.
Note-Tracking and Document Management
Notion uses a Kanban board to provide an overview of the many stages of each deliverable. Content can be organized into the following main categories: To Do, In Progress, Edit, Published, and Archive.
Users can further break down each deliverable into various stages by clicking on its card. It also allows users to invite other members to collaborate or assign and track specific tasks and set deadlines.
Additionally, users can quickly toggle between their own projects and team-wide assignments with filters and custom keywords.
Research, Writing, and Editing
Notion makes writing and editing easy, as the platform feels very intuitive and minimizes any frustration regarding proper formatting, indentation, image position, and lists. There are also available blogging and writing templates that help keep all writing consistent.
What's more, ideas, the fuel for each piece of content, can be safely stored on the platform. If a user has a great idea, they can quickly store it in Notion to come back to it later and build upon it.
✶ Notion search sucks: see why that is and how to improve it
Advantages
Notion's user-friendly interface and comprehensive content management features make it an ideal option for writers and other content creators. Here are some of Notion's key strengths:
Easy to use:

Users can jump immediately into their tasks after getting used to the platform. In case you need any help, you can count on many available tutorials and responsive technical support.

Multifunctional:

The fact that it's a multifunctional app with features beyond note-taking is a major selling point. As a result, users won't waste time keeping several tabs open or switching between programs to produce and manage content.

Clutter-free interface:

Users can easily organize tasks, projects, and workflows thanks to Notion's clean and intuitive interface. This also minimizes distractions and helps keep the user focused on their deliverables.

Cross-compatible:

Notion is compatible with several devices. As long as a user has one device connected to Notion, be it a laptop, tablet, or smartphone, they can access their work or share content from anywhere. You can get Notion in a web app, a Mac or Windows desktop app, or an iOS or Android mobile app.
✶ Having problems with syncing Notion across devices? Here's how to fix it
Disadvantages
Although Notion is a wonderful note-taking and content-management tool, it's not without its faults. Some of these include:
Minor learning curve:

For users with no experience in using Notion or similar tools, getting accustomed to its interface and navigation might take some time, as finding pages and dashboards can be confusing to first-time users.

Setup can take time:

While Notion's workflow and content management benefits are worth the effort, setting it up properly for team use might take some time. In comparison, this can be easily provided by other dedicated project management tools.

Text formatting issues:

There are a few common formatting bugs that irk users. For example, the app may respond inconsistently when users try to edit or highlight text or add sections to a page.
Streamline Your Content Management With Notion
As a comprehensive content management tool, Notion makes it easy to find and manage your content, collaborate with others on teams, and organize and share ideas. Even though there are a few drawbacks to consider, the overall advantages make it a fantastic choice for many users, as it's intuitive, simple to use, and works well across multiple devices. As such, it may be the perfect solution for your content management needs in 2023.