Why Your Customer Support Tools Need a Powerful Search Engine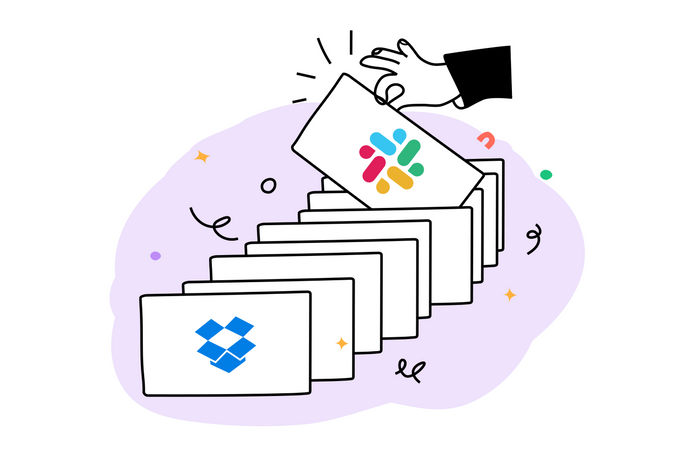 Is your customer support team productive? Most likely not. According to Forrester's research, 50% of support leaders say their teams are wasting time switching between different tools and channels to solve customer issues. In addition, 51% of support leaders reported that their team has less bandwidth today than ever before.
To keep up with the numerous contact channels and customer support tools required to serve customer customers, it has become essential that companies streamline their customer support operations with a robust and intelligent search engine.
A powerful search engine integrated into your customer support stack is the key to improving the productivity and efficiency of your customer support teams. Here's why.
Minimizes Customer Service Response Times
The ability to search across different apps and repositories from one place significantly reduces the time to respond to customers. Customers are impatient. Research from HubSpot shows that 90% of customers expect a response in under 10 minutes. The longer it takes for customer support agents to retrieve information beneficial to customers, the longer the customer wait time, and long wait times lead to terrible customer service.
The 2020 SaaS Trends Report by Blissfully shows that support teams are using over 10 apps to carry out their tasks. Having to dig through all those different customer support tools to find an answer negatively impacts customer service response time, especially when you consider that support agents are usually fielding queries from multiple customers simultaneously.
Investing in a multi-tool search can help agents comb through all the resources available and find the answer quickly. Tools like Unleash let you connect 30+ applications so you can search across multiple repositories at the same time.
Provides Relevant Answers to Complex Queries
Contextual and semantic search creates a search experience that helps customer support teams provide relevant answers to customers' questions faster. For example, support agents often struggle to see where their customer has been, who they've spoken with, and the information they have already provided. On the other hand, customers dislike supplying the same information multiple times, only to be prompted again when speaking to an agent over the phone. Having historical context solves both challenges.
Contextual search delivers personalized search results that zoom into the individual's customer support history helping support agents provide meaningful and relevant answers to complex questions. For example, if a customer raised a complaint the previous week about the late delivery of an item, the support agent can easily access this information using contextual search.
Semantic search analyzes groups of words that typically appear together and uses machine learning to predict what support agents mean when they type in queries. For instance, if a support agent types in "expected delivery date," semantic search can predict the intent of the search and pull up support tickets or chats from different apps based on that search query. It can also provide meaningful search results when support staff make mistakes in their queries.
Combining contextual and semantic search in a unified view ensures that support staff get faster and better-quality answers to customers' issues. Powerful search engines like Unleash can extract relevant search results for your support teams by providing semantic and contextual search.
Increases Employee Productivity
A powerful search engine consolidated with your customer support tools stack reduces the amount of context switching required when moving between applications, leading to improved productivity for your support teams. Context switching occurs when customer agents frequently shuffle between applications and tasks. Doing this can lead to a decrease in productivity and cognitive fatigue. Research suggests it takes 9.5 minutes to regain our flow when switching between tasks. Imagine the effect it will have on agents who have to switch between over 10 apps to resolve customer complaints multiple times a day.
Research by Pega also shows that an employee who multi-tasks between 30 applications will make 28% more errors than an employee who focuses on a single application. More errors mean unhappy customers, and disgruntled customers lead to less customer retention and ultimately a decrease in revenue for the business.
Integrating a powerful search engine for a deeper search helps minimize the context switching of moving between apps to locate or deliver information. For example, Unleash can search through 30 applications and provide one-click app launching and support for email creation and ticket logging, all from the search results. Having all these capabilities in a unified search engine reduces the amount of context switching required by support agents. This allows support staff to better focus on their highest priority tasks, avoid mental fatigue, and improve their productivity.
Reduces the Number of Escalations
Finding relevant and updated answers to customers' queries means fewer escalations for support teams. Support agents want to provide faster resolution to customer queries. However, for complex problems involving multiple teams, agents are often forced to pass customers between groups when they cannot assist, which means more time spent and more frustrations for the customers.
According to Zendesk research, nearly 70% of customers are irritated when their call is transferred between departments. Imagine a customer of a financial institution gets his card declined at a supermarket counter due to a suspected fraud error. The customer contacts the support team and is passed between three different agents before someone in the team can help resolve his issue.
This situation is not ideal for all the parties involved. The customer is frustrated and embarrassed, and customer support agents (with limited bandwidth) have to manage the frustrated customer. The company could have prevented this issue if the first agent could quickly search through error codes and previous mentions of a related problem to help the customer resolve the issue.
Even in cases where the customer has to be transferred, powerful search capabilities help agents find information to explain to the customers why they are being transferred. It ensures the customer knows their issue is understood and they're not just being transferred needlessly.
By utilizing a powerful search tool equipped with advanced filters, error code location, and predictive search capabilities, agents can quickly find the answers they need without looping someone else in or escalating it to a different department.
Improving Your Customer Support Toolset Increases Retention
Your customer support representatives are one of your customers' direct links to your business. By empowering your customer support team with a powerful search engine, you boost their productivity and allow them to focus on providing excellent customer service, which is key to retaining customers. Since 80% of future profits potentially come from 20% of your existing customers, why not delight them?
Learn more about how Unleash's powerful search engine can improve the productivity of your customer support teams by signing up for a free trial today!