7 Best Enterprise Search Engines for Navigating the Data Maze

By

Marcel Deer

Reviewed by

Kelly Hendrickse
Updated August 21, 2023.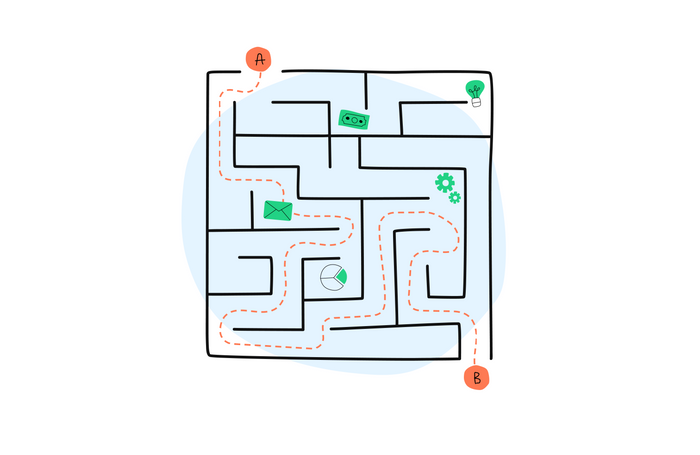 An organization that cannot efficiently handle its data will not be able to reach its peak potential. Office workers can spend as much as 19% of their total work week just looking for the information needed to do their jobs, according to a McKinsey report. Enterprise search engines are the solution for this productivity bottleneck.
An organization's body of knowledge comprises data in different formats and media. Tables, reports, emails, spreadsheets, videos, and images—the list goes on. It can be exhausting to navigate all of this manually. Luckily, enterprise search software makes indexing, searching, and displaying specific content to authorized users in the organization possible. The advantages of using enterprise search solutions include improved productivity, greater efficiency, and employee satisfaction.
✶ Find out how enterprise search improves internal communication
A Quick Look at the Best Enterprise Search Engines for Navigating the Data Maze
Don't let mountains of data overwhelm your business. There are enterprise search tools that make knowledge management and navigating the data maze a convenient exercise. Let's look at the most popular and useful ones.
Best Overall Enterprise Search Engine

:

Unleash



Best for Lightning-Fast Search

:

Algolia

Best for Open-Source Scalability

:

Apache Solr

Best for Distributed Search and Analytics

:

Elastic

Best for AI-Led Relevance

:

Coveo

Best for Digital Knowledge Management

:

Yext

Best for Integrations With Minimal Development

:

Addsearch
1. Unleash: Best Overall Enterprise Search Engine
What is Unleash?
Unleash is a cloud-based enterprise search platform that allows you to search across all of your organization's apps and knowledge library and find all the information in one place.
How Does Unleash work?
Unleash works by connecting to your company's entire knowledge database. Its enhanced information findability means all your searches will have quick results and data silos are broken down. With the power of AI and semantic search, the Unleash search engine is smart enough to consider synonyms and related concepts to deliver relevant information.
It also works on various platforms:
Embedded in the company portal

Through a fully kitted web and desktop app

As a browser extension

Via a Slackbot
Pros
Can perform a semantic search for related keywords and synonyms

Seamlessly integrates with the company portals

Saves workers' time and energy
FAQ
No, a monthly subscription fee is required.
There are a variety of pricing plans, from $5 per user for freelancers to customized packages for large organizations.
No, Unleash is a licensed SaaS.
2. Algolia: Best for Lightning-Fast Search
What is Algolia Search?
Algolia is software that allows anybody to create intuitive and dynamic digital search and discovery experiences. So why Algolia? Its flexibility means it can be used for both customer- and employee-facing websites or applications.
How Algolia Search Works
To use Algolia search, you don't need to be a tech wizard. This cloud-based software has free and paid versions, and both are easy to set up. You may be wondering if Algolia is open-source, and it's not, but it is available under a commercial SaaS license. The chief selling point is adaptive learning with AI, called NeuralSearch. This, along with the natural language understanding functionality, means Algolia is used to deliver search results even without keywords being used.
Pros
Yields speedy search results

Uses AI for adaptive learning

Can understand search queries even without keywords
Cons
Requires a level of technical proficiency
FAQ
Yes, Algolia offers a free plan called Build.
Algolia offers a dynamic, usage-based pricing solution called Grow at $0.50 per 1,000 searches. More advanced plans, called Premium and Elevate, have custom pricing available on request.
Industries that commonly use Algolia are B2B and B2C e-commerce, markets, and media organizations.
3. Apache Solr: Best for Open-Source Scalability
What is Apache Solr?
Apache Solr is an open-source enterprise search platform built on Apache Lucene. So why Apache Solr? It's optimized for high-volume traffic and is highly scalable and fault-tolerant. You can also use Apache Solr to navigate full-text searches on your platform, as well as additional functions like:
Distributed indexing

Replication and load-balanced querying

Automated failover and recovery

Centralized configuration
How Apache Solr Works
It's fairly easy to get started once you know how to install Apache Solr, which Apache Solr has an extensive guide on how to do it. It's free to download, open source, and has a wealth of learning material. Because of its distributed indexing and filtering, it's more straightforward to identify and isolate the users and content you are searching for. Apache Solr can scan text files within its indexes in the following formats:
JSON

XML

CSV

Binary over HTTP
Results are received via JSON, XML, CSV, or binary results.
Pros
Community-supported and free

Easy to isolate users and content with search indices

Offers tutorials for new users
Cons
Scaling up the enterprise search solution is complicated

Specialized for text search, not multimedia search
FAQ
Yes, Apache Solr is free to download from their official website.
Is Apache Solr Open-Source?
Yes, Apache Solr is open-source under the Apache license, and you can make changes to its code.
What is Apache Solr Used for and Who Uses Apache Solr?
Apache Solr is used for full-text search across a real-time index. Many major international companies, like Apple, Fiverr, Slack, and Walmart use Apache Solr as an enterprise search tool in their tech stacks.
4. Elasticsearch: Best for Distributed Search and Analytics
What is Elasticsearch?
Built with Java, Elasticsearch is a NoSQL database that allows stored data to be read from your disk when needed and the heap is basically used as working memory and should account for about 50% of available RAM. The popular tech stack for knowledge management is named ELK (Elastic, Logstash, Kibana) because of how pivotal Elasticsearch's software is. The Elasticsearch Relevance Engine (ESRE) uses both artificial intelligence (AI) and machine learning (ML) to deliver fast and reliable search results.
How Does Elasticsearch Work?
Elasticsearch's all-inclusive design is meant to be used for easier, more efficient searches. So, why use Elasticsearch? It enables ambitious game developers to build any kind of search application or data management program they can imagine. You can install it using their hosted site, with their various install packages, or using their Java version. The most simple would be to get an Elastic Cloud account, choose your tools, and build the optimal search experience for users. However, Elastic struggles to perform as efficiently when searching through huge datasets.
Pros
Compatible on every platform

Easy to create backups

Flexibility of data sources
Cons
Limited in terms of customization and security features

Can be challenging to learn
FAQ
Is Elasticsearch Open-Source?
While originally open-source, it has shifted to a commercial license.
How Much Does Elasticsearch Cost?
Elastic offers new users a 30-day free trial. Elastic offers several pricing plans, from the Standard at $95 per month to Enterprise at $175 per month.
How Can You Get All Documents From the Elasticsearch Index?
Most methods use variations of a "GET" API in the Unix terminal, Windows command prompt, or Kibana Console UI.
5. Coveo: Best for AI-Led Relevance
What is Coveo Search?
Coveo is a cloud-based, intelligent enterprise search platform. It uses AI recommendation and personalization to increase the relevance of every user's experience.
How Does Coveo Search Work?
Coveo is a secure and scalable enterprise search solution. If you're wondering if Coveo is any good, it's worth noting that it uses connectors and APIs to find results regardless of format, making it a versatile solution. The easy indexing and unified search experience mean content can be accessed no matter where it is located. Coveo's enterprise search platform's pricing is based on a subscription model with flexible payment plans. Cross-platform compatibility lets Coveo integrate seamlessly with your company's tech stack and simplify searching for content.
Pros
Yields results regardless of the content's location or format

Connects data sources through APIs and connectors

Gives AI-enhanced search results based on context
Cons
Requires a subscription

Displays unsorted results with no option to sort them
FAQ
Coveo allows users to securely index any kind of content. Choose from over 55 pre-built connectors, or use Coveo's in-house Push API and code sample to build your indices.
Yes, since 2016, Coveo's search UI has been open-source.
What is Coveo's Enterprise Search Pricing?
Coveo has two pricing plans, Enterprise and Pro, with prices available upon request.
6. Yext: Best for Digital Knowledge Management
What is Yext?
Yext lets users create end-to-end digital experiences that result in smoother, faster enterprise search results.
How Does Yext Work?
Yext has many features that allow it to analyze data, organize your content, and deliver direct answers to any search queries from customers or employees, depending on your use case. This AI-powered enterprise search engine uses natural language understanding and semantic search to deliver results on your website, app, or any other platform.
You can also push your structured data from Yext to third-party search engines. If you're wondering if Yext is worth it, you can try a free trial to test if it fulfills your needs.
Pros
Employs neural network to respond to keyword-based queries

Offers free trial

Can build your own search network
Cons
Expensive enterprise search solution

Limited data analytics functionality
FAQ
What Does Yext Do and What is it Used For?
Yext offers enterprise search solutions for marketing, e-commerce, and software developers to streamline their data navigation.
Yext prices differ based on package size, business type, entity count, and feature usage. Prices range between $4 and $19 per week.
7. Addsearch: Best for Integrations With Minimal Development
What is AddSearch?
AddSearch is a dedicated enterprise search platform for companies that run a website. This smart site search solution is designed to deliver stunningly fast results on any website or application.
How Does AddSearch Work?
AddSearch's site search feature uses a self-learning algorithm to learn site-visitor patterns and adjust search results accordingly. The look and feel of its multi-domain enterprise search engine can be customized according to your site's aesthetic. Your site search results will always be current, thanks to a web crawler. This software is especially useful for those running e-commerce sites.
Pros
Highlights popular results from past searches

Multi-domain search platform
Cons
The web crawler causes difficulties in indexing content by making too many requests in a short period
FAQ
Does AddSearch Have a Web Crawler?
Yes, and it updates in real time.
What is AddSearch's Price?
AddSearch has four plans. Their prices per month are Essentials at $29, Professional at $99, Premium at $499, and Custom pricing for Enterprise.
✶ Want to know more? Learn the key features you need in an enterprise search tool
Take Control of Your Data Maze with Enterprise Search Tools
Empowering employees with a powerful enterprise search engine is a surefire way to boost productivity. Information is made easier to access, making decisions and forming strategies more straightforward. Say goodbye to time-consuming data navigation by adopting a tool like Unleash. An enterprise search engine doesn't just deliver query results; it also delivers satisfaction and efficiency.