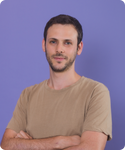 Noam Limor
Expertise
Market research, Business intelligence, Analytics
Education
Bachelor's Degree in Economics, Bachelor of Law, Master's Degree in Business Administration from Tel Aviv University
Highlights
Head of Products at Unleash
Experience
Noam Limor is the Head of Products at Unleash, with two Bachelor's Degrees and a Master's Degree under his belt. He also has half a decade of experience working in the project management space. His deep knowledge of market research and analytics is put into practice in his daily work. His specialized experience and skills allow him to produce valuable content from a unique perspective.
About Unleash's Editorial Process
At Unleash, our expert team of writers and editors provides you with accurate and reliable information to enhance productivity, organize workflows and unleash potential. Industry professionals fact-check our content to ensure relevance. We only source content from reputable sites and research institutions and cite this where applicable. Our content is rigorously reviewed before publication and upon considerable updates. To learn what we do to deliver you quality content you can rely on, check out our editorial process.