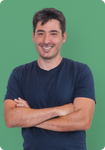 Itay Itzhaki
Expertise
Software design, Software development, Distributed systems
Education
Bachelor of Science from Open University, Master of Science from Tel Aviv University
Highlights
Co-Founder and CEO at Unleash
Experience
Itay Itzhaki is the CEO and co-founder of Unleash. From being a software entrepreneur since the age of 13, he has extensive experience in the world of cybersecurity. He holds a Master's Degree in Computer Science from Tel Aviv University and has a proven track record of creating remarkable solutions, founding and scaling a startup to successful acquisition.
About Unleash's Editorial Process
At Unleash, our expert team of writers and editors provides you with accurate and reliable information to enhance productivity, organize workflows and unleash potential. Industry professionals fact-check our content to ensure relevance. We only source content from reputable sites and research institutions and cite this where applicable. Our content is rigorously reviewed before publication and upon considerable updates. To learn what we do to deliver you quality content you can rely on, check out our editorial process.